WSN AdUnblocker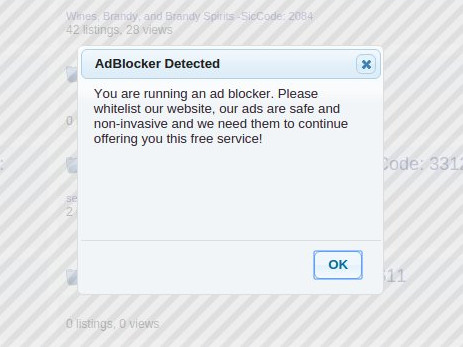 The use of adblockers has grown by 41% this year alone, and 16% of US internet users now block ads.[source] These are some of the heaviest internet users, so their would-be share of your ad impressions could be much higher -- in fact, revenue lost to ad blocking is projected to reach 29% of total ad spend in the USA by next year. If your website draws a tech-savvy audience then these numbers could be even higher. That's a big chunk of your potential revenue.
If you could tell these people that your ads are safe and non-intrusive, many of them will whitelist you to allow your ads. If you use an adblocker yourself, you may have noticed a few sites ask you to whitelist them... if you're like most of us, you'll gladly give them a chance unless their ads turn out to be obnoxious enough to make the website hard to use.
The WSN AdUnblocker script makes this whitelisting request for you, as politely or aggressively as you like, as shown in the screenshot on the right. Customize the message and the frequency of display as you like.
Do-It-Yourself Integration (any CMS, any website)
Download WSN AdUnblocker
(Extract the archive and see the readme.html file enclosed for integration instructions.)
Full Service Adblock Detection for WordPress
If your websites run WordPress, we can offer you a simple fixed price of $50 for complete setup and integration of WSN AdUnblocker. We'll install it, configure it as you like, match it to your site color scheme and make sure it's working correctly for your ads.
Integration will normally be completed within 48 hours of recieving your site access info.
Full Service Adblock Detection for All Other Scripts
Setting up adblock detection requires some changes to whatever CMS/script your website runs on (or to the HTML for a plain HTML website). Let us know what script(s) your website runs and we'll get you an estimated cost (typically $100 or less):